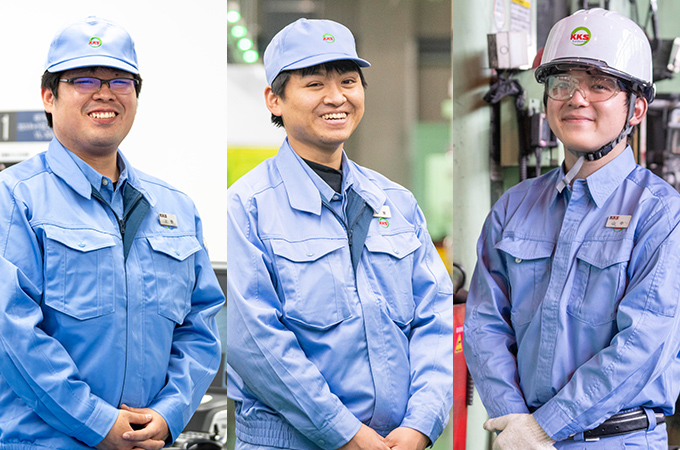 Enhancing and evolving our knowledge and skills through new ideas.
This is a stage where you can expand the possibilities of manufacturing with your own power.
It's exciting to use the wide range of knowledge and technology in the forging and forming process for the improvement and innovation of the workplace!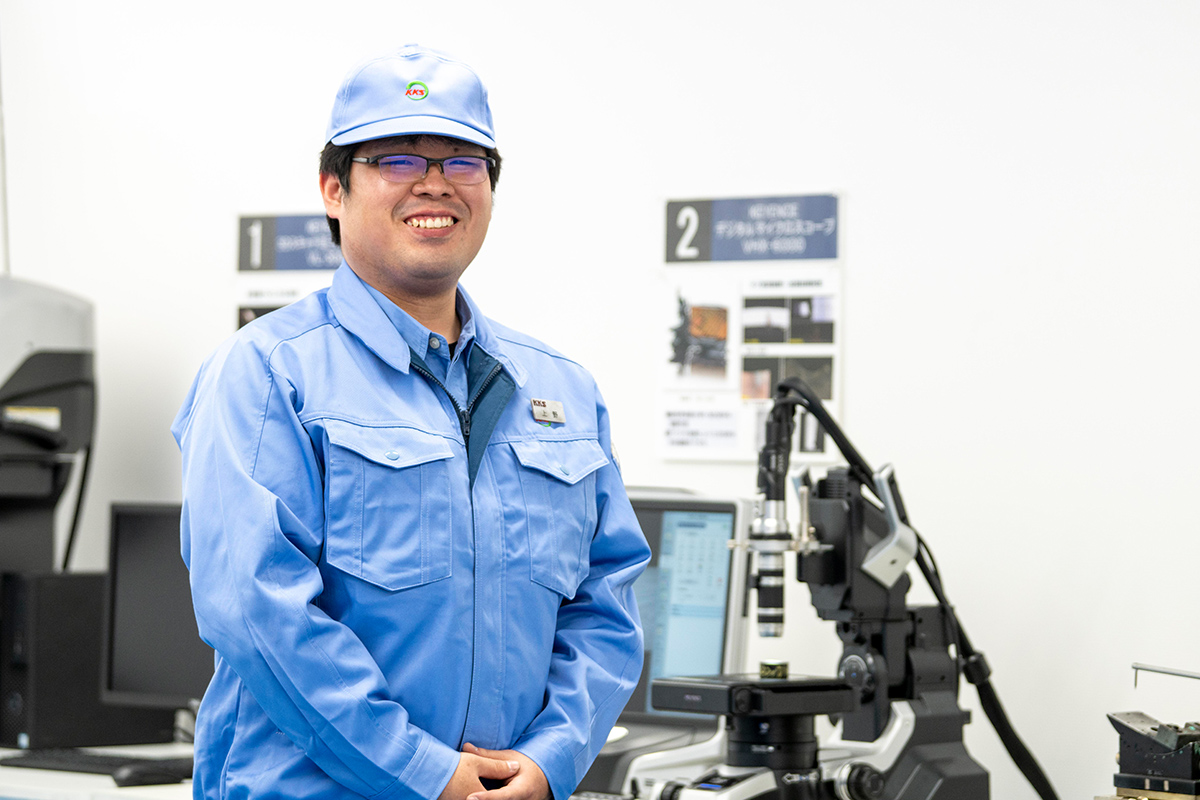 K.U
In charge of forming processes at Kuribayashi Seisakusho's Production Engineering Department.
Joined in 2016. Completed graduate school majoring in precision mechanical engineering. Born in Ibaraki prefecture.
Please describe your work in detail.

I design the dies used in forging. I am also in charge of quality checks when there is a new machine or change in the process.

When I first joined the company, I was assigned to the engineering department and after about six months, I was able to experience the forging process using a press machine in the manufacturing department.
Since December of 2021, I have been involved in the forming process in my current department.

I have experienced our company's wide range of technologies in one way or another while changing departments. My current main task is to help improve the operation of the worksite. I have relearned the importance of the forming process that I was taught in my first year at the company, and I am realizing how interesting it is to work with a more objective viewpoint and how stimulating it is to acquire even more new knowledge.
Why did you choose Kuribayashi?

I liked driving cars, so I wanted to be in the car business. I had the option of working for an automobile manufacturer, but I am the type of person who concentrates on one thing rather than juggling many things at once, so I searched for workplaces where I could do this and hoped to find employment with an automotive parts supplier.

There are countless automotive parts, but the main reason I chose Kuribayashi was that bearings stood out to me as particularly interesting. Although we live in an era where society and automotive needs are rapidly changing, bearings themselves will never disappear. I believe they are a component that will continue to change and develop with the times, so I was attracted to them from the perspective of their future potential.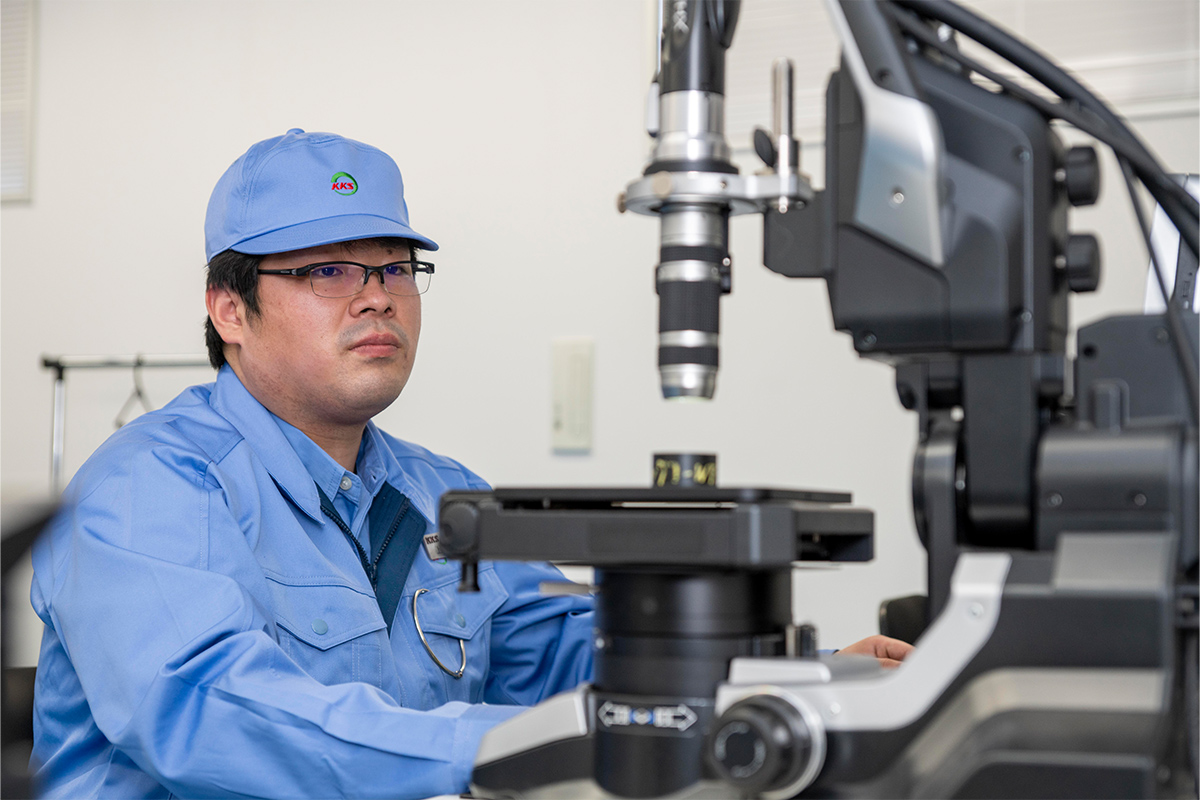 What is good about Kuribayashi?

I like the frank work environment with no hierarchical or job boundaries. It's easy to communicate with anyone. Maybe it is because of the cooperative culture that even during daily tasks, I can naturally support and check in on neighboring production lines or help troubleshoot machines.

Another thing that contributes to the ease of working is how easy it is for anyone to express their own opinion. Because coworkers will not only listen to our opinions but also consider them in a friendly manner and take them seriously, it builds an atmosphere where we can proactively make positive proposals to improve quality and reduce defects.
What are your future prospects and aspirations?

I believe that the current atmosphere of valuing workers' voices will enhance quality and become a driving force for making better products.

I would like to further improve my knowledge and skills so that I can effectively take advantage of this work environment. My goal is to become an engineer that can immediately translate their findings in the workplace into improvements.
Turning processes are evolving!

Great satisfaction in the work that supports it.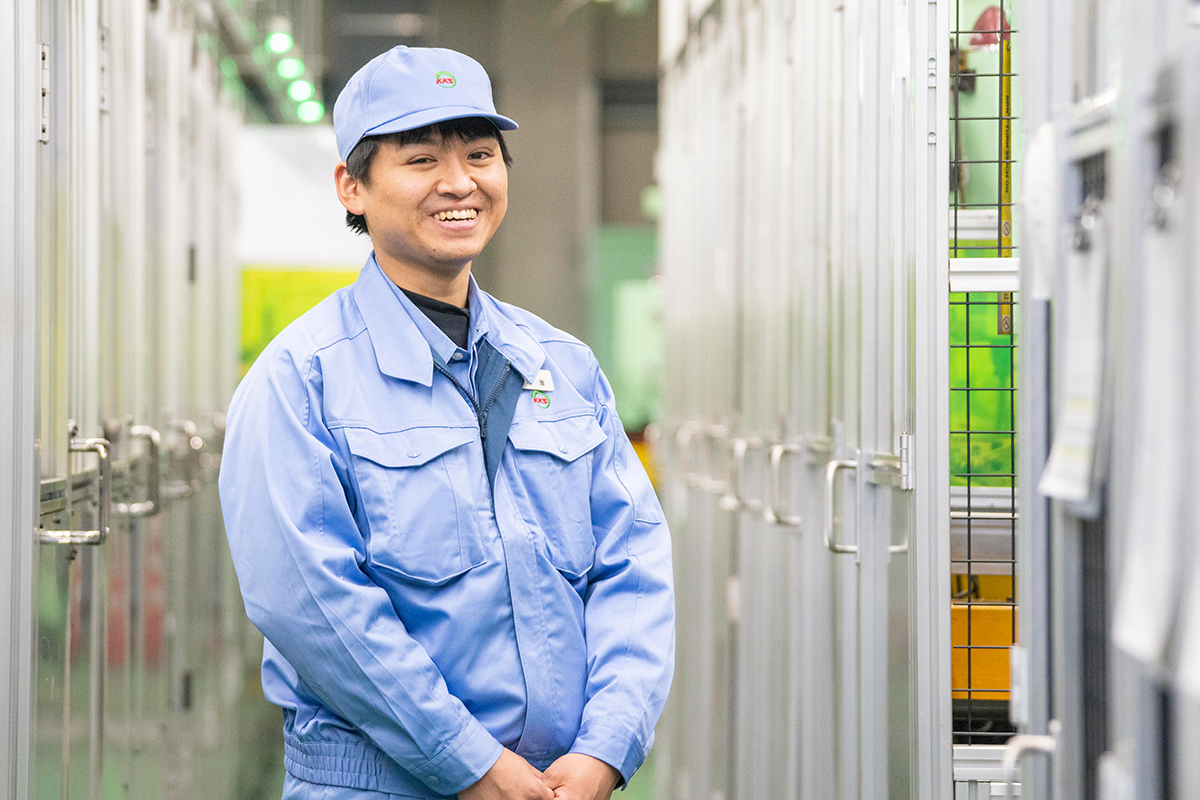 T.Y
Responsible for equipment development, process design, etc. in the Production Engineering Department of Kuribayashi Seisakusho.
Joined the company in 2016. Graduated from university with a major in mechanical engineering. From Saku City, Nagano Prefecture, Japan
Please describe your work in detail.

As a member of the Machining Section, my main duties include quality improvement and defect countermeasures in the bearing turning process.

Every morning, we form a project with members of the same section and check the previous day's daily defect report. All members share and comprehend the details of the defects, and by looking at the products and checking the work site, we determine the causes of the defects and proceed to make improvements.

We have achieved various improvement measures, such as redesigning jigs and tools to vastly reduce the number of defects or to eliminate metal shavings.
Why did you choose Kuribayashi?

I have been interested in the manufacturing industry since I was a student and wanted to work for a manufacturing company. When I came to visit the company, I saw the process of forging rings from bar stock and thought it looked genuinely interesting, which led me to join the company.

I have realized how interesting manufacturing can be after working at the company. In addition, the worksite improvement project that I am currently working on allows me to experience firsthand the rapid evolution of manufacturing sites. We are also in the process of enhancing the lathe environment at the new plant, and I have a feeling that the response to our work will become even greater in the future.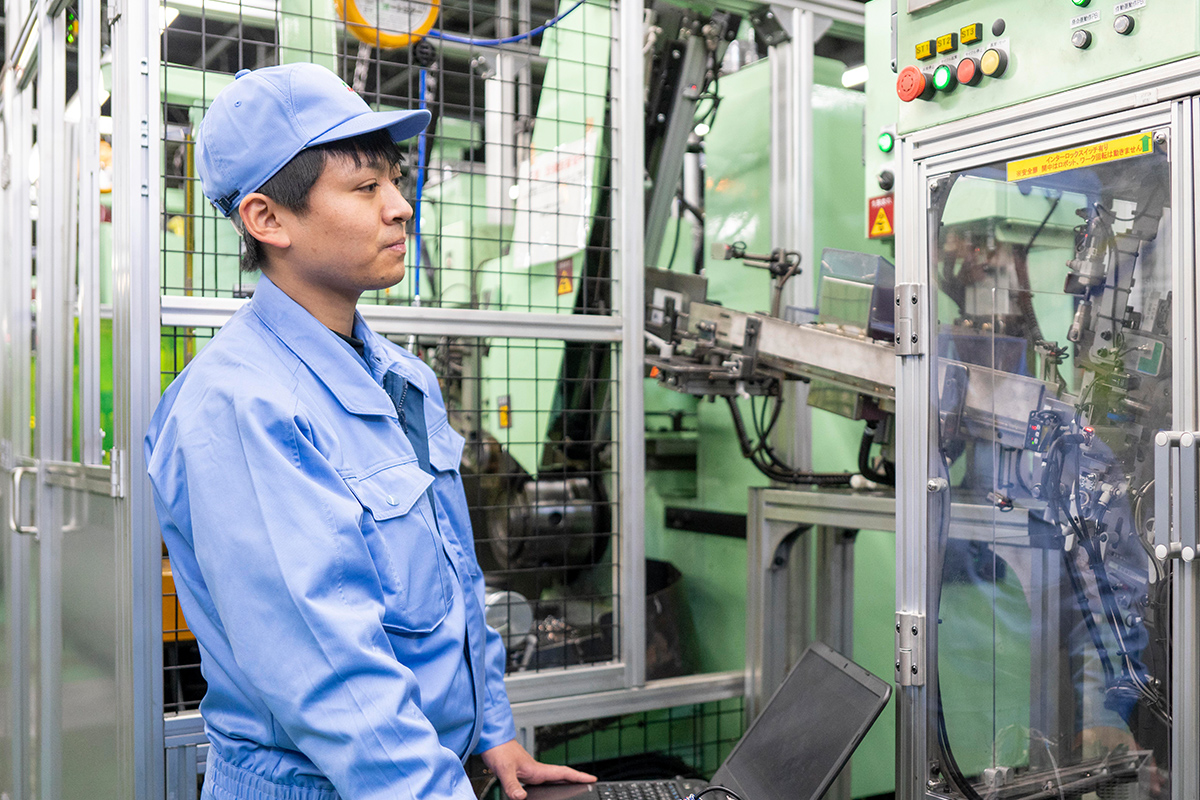 What is good about Kuribayashi?

It is a comfortable company to work for with a good benefits package.

In particular, I was very grateful for the monthly rent subsidy for five years after joining the company.
The fact that the company has proper regulations regarding work and overtime is also helpful.

Another interesting point is that staff members from various countries are working here, allowing you to broaden your cultural horizons. It is quite fun getting to know the overseas staff.
What are your future prospects and aspirations?

Lathing techniques and methods are evolving rapidly. Accordingly, some parts of our processing methods, processing environments, processes, and other such factors will need to change in the future.

Our strength lies in the wide range of products we process and our ability to build diverse manufacturing environments in-house to accommodate them. In order to improve our factories and processes, we would like to accurately identify what is good and what needs to be changed about the current situation and hone our perspectives and skills to reflect this in the workplace.
My scattered fragments of knowledge pieced together through practice in the forging process!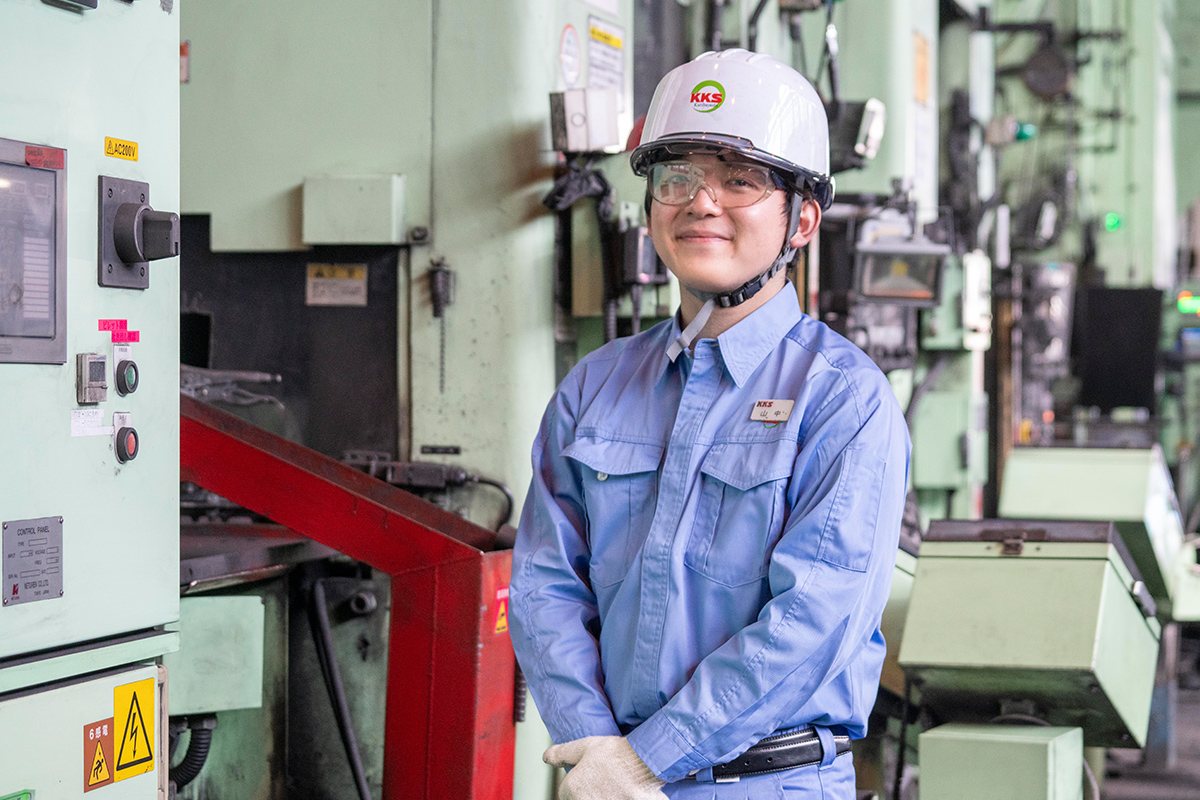 K.Y
In charge of forging in the Manufacturing Department of Kuribayashi Seisakusho.
Joined the company in 2021. Completed graduate studies majoring in Functional Materials Engineering. Born in Nagano City, Nagano Prefecture, Japan
Please describe your work in detail.

I am involved in the forging process using presses. The work includes heating and pressing steel materials to produce a "blank," which is the prototype of a bearing. It is then inspected for its appearance and performance, and handed over to the next process.

Although it is important to efficiently manufacture high-quality products, it is even more important to perform daily work in a safe manner. We are always on the lookout for hazardous areas or dangerous actions, and when noticed, we immediately share the information with everyone and suggest improvements.

We have an in-house "Safety Dojo" where all employees receive thorough safety training on a regular basis.
I believe this is a company where awareness of "protecting oneself" and "detecting danger in advance" is widespread.
Why did you choose Kuribayashi?

I wanted to put my knowledge of materials processing, which I majored in as a student, to work. My strong interest in metalworking, especially forging, led me to join this company specializing in forging.

When I was a student, most of my classes and research was at a desk. When I joined the company and experienced the workplace, the things I had not understood from drawings alone or only understood in concept became clear to me, which made me feel refreshed. It felt like all the scattered puzzle pieces slotted in and completed the picture.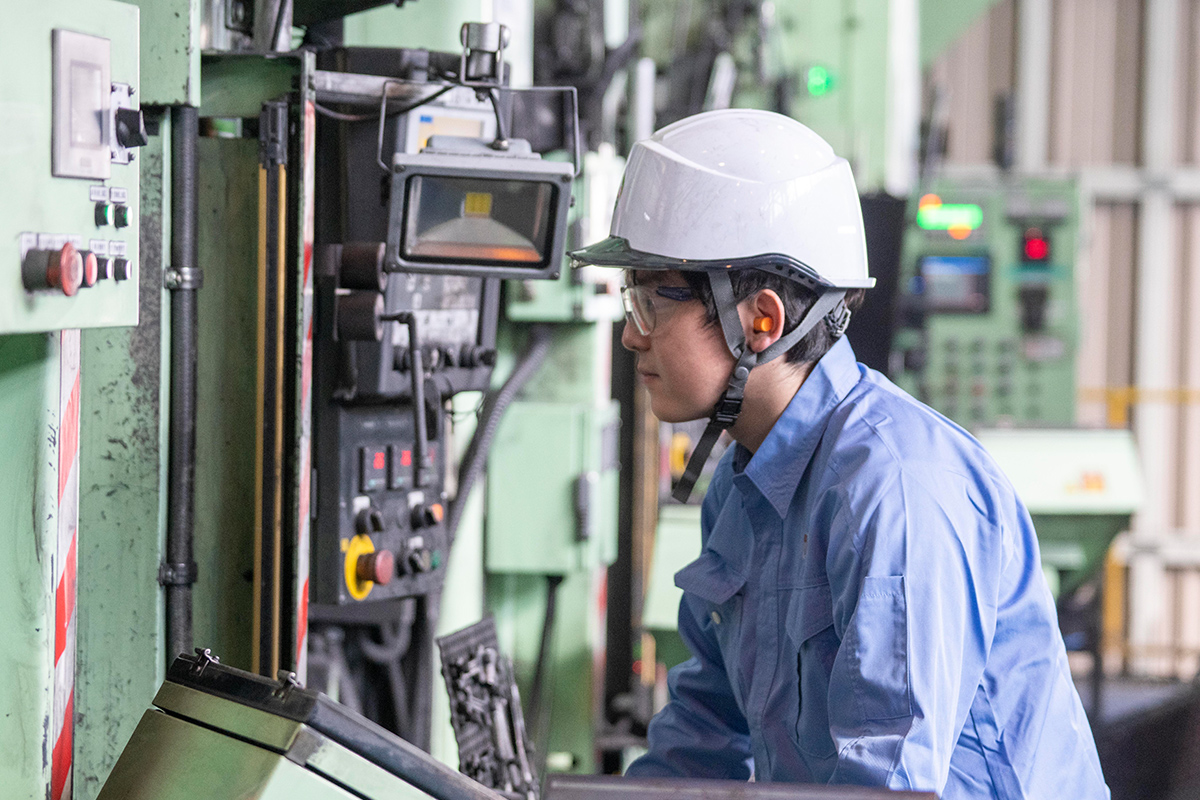 What is good about Kuribayashi?

I think this company has a corporate culture that is friendly, frank, and has a human touch. Even if you are a newcomer in your first year, your superiors and executives will light-heartedly interact with you.

Even when I encounter machine trouble and cannot determine the cause by myself, I can ask questions to someone nearby without feeling nervous. They will help me even if the production line is different, so I am grateful as it is helpful and cuts down on what could have been a lot of wasted time.

In terms of benefits, the rent assistance has been very helpful as I currently live in an apartment near the company.
What are your future prospects and aspirations?

In my first year with the company, I am still learning many things and getting help from many people.
Going forwards, I hope that I can be the one to reach out to newcomers and work with them while building up a relationship of trust.