Introduction to the Departments
The Production Engineering Department, the Manufacturing Department, and the Quality Assurance Department.
Each plays an important role in the delivery of world-class bearings.

An organization that realizes both good product manufacturing and a better life for employees
Kuribayashi's organization is structured with the goals of enhancing manufacturing technology, producing high-quality products with high productivity, and creating a workplace where every employee can work safely while feeling a sense of fulfillment and accomplishment.
Engineers can expand their potential and develop their careers by rotating through a variety of departments while confirming their aptitude.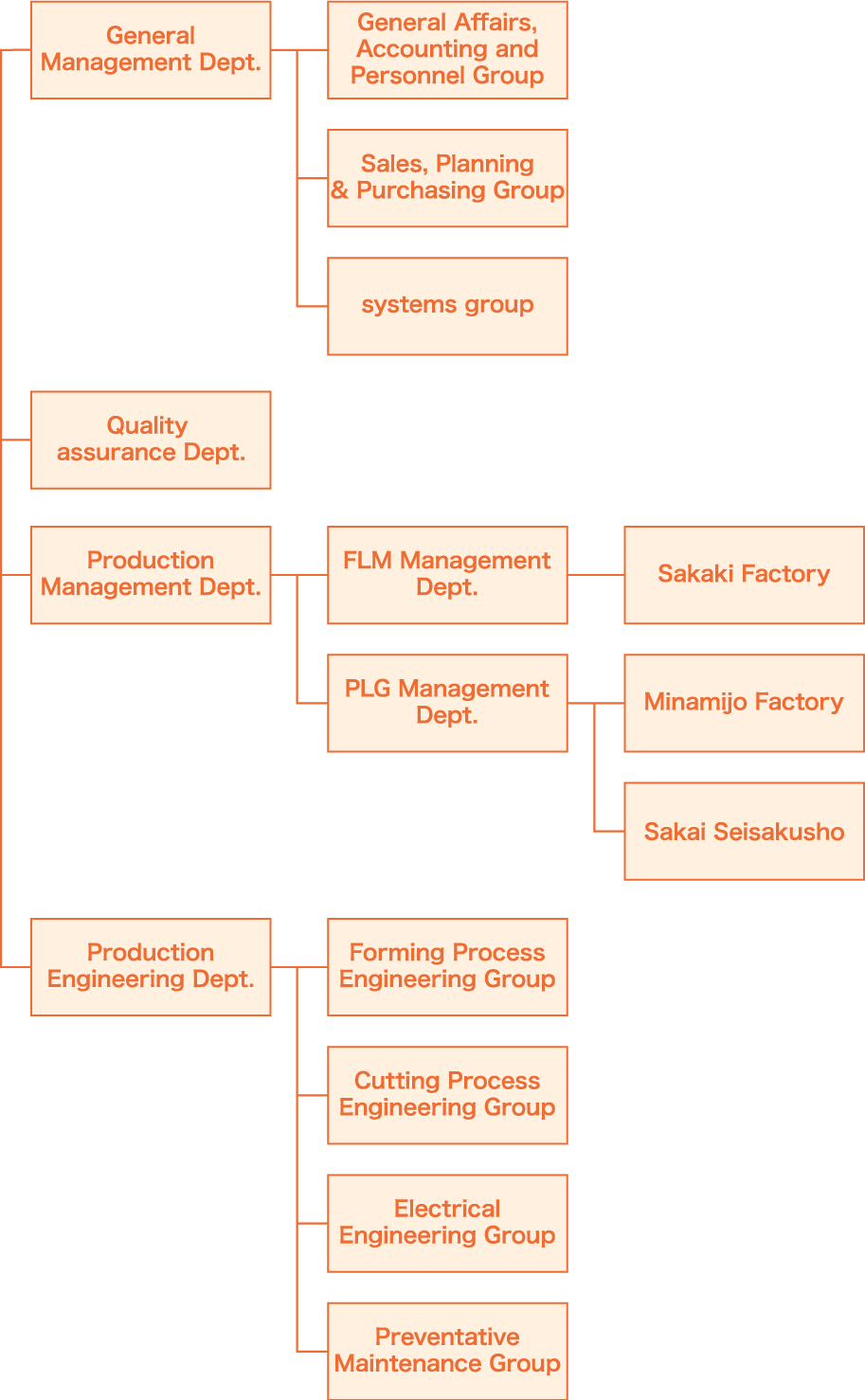 Forming Process Engineering Group
This group develops new processing and manufacturing technologies while conducting repeated prototyping and research to develop new production methods and mass production technologies with higher productivity.
Kuribayashi also designs and manufactures molds in-house. The development of these molds, which determine quality/accuracy and improve yield rates, is also a part of this group's work.
Cutting Process Engineering Group
Most of Kuribayashi's lathe lines are original equipment designed in-house. To attain a turning process that leads to customer satisfaction, this group designs the equipment, sets specifications, and places orders with equipment manufacturers. This group also performs minute adjustments before installation on site.
Using the latest analysis tools, members are also developing new cutting technologies and methods.
Electrical Engineering Group
The electrical group manages all electrical systems in the company, including substations, power distribution facilities, production facilities, monitoring facilities, and other ancillary facilities. Electrical members collaborate with other groups and workers on site to design electrical systems for new facilities, inspect equipment, and respond to malfunctions and failures.
This group also plays an active role in energy conservation measures by reducing power consumption and improving efficiency.
Preventative Maintenance Group
The preventative maintenance group performs periodic inspections/maintenance along with preventative maintenance of production and ancillary equipment, mainly in the forging process. They work to maximize the performance of equipment through the planning and implementation of equipment improvements, the planning and introduction of new equipment, and equipment maintenance.
Maintenance members share issues and problems of equipment with the work site, leading to the early detection of hazards and the prevention of accidents.
Production Management Dept.
There are two manufacturing processes producing high-quality products at Kuribayashi; the process of manufacturing "tapered roller bearing" rings through the pre-processing of steel plates to make bearing materials, forging, turning, and die machining, and the process of manufacturing thrust bearings using die-cut materials.
In their first few years with the company, trainees are often assigned to the manufacturing department, where they learn a wide range of production technologies on-the-job. They gain an understanding of the structure of on-site operations and develop a perspective that enables them to look at manufacturing as a whole while giving work instructions and providing operational support.
Quality assurance department
Advocating "Total Quality No. 1," this department has a quality assurance system in place to deliver world-class quality products trusted worldwide following NSK's strict quality management.
We consider it our mission to manufacture products that are not only highly perfected, but also safe and clean.
General Affairs, Accounting, and Human Resources Group
This group is composed of 3 sections: accounting, general affairs, and human resources. Accounting members perform company-wide accounting and financial operations such as budgeting, closing accounts, and funds. General affairs acts as the front desk for both customers and employees while maintaining the working environment for employees. Human resources is in charge of operations related to "people" such as recruitment, training, salaries, evaluation, safety and health, and disaster prevention. Due to a large amount of human interaction, good communication skills are required.
As the company continues to grow, a global perspective will become more valuable in this department.
Sales, Planning & Purchasing Group
This department is in charge of internal production management (product estimates, production, and progress), delivery, and shipment management. As the control tower of the factory, it instructs and communicates with each department to keep both the factory and production running smoothly.
This department also manages purchasing (quotations, orders, and receiving) and is the point of contact for customer service.
systems group
This department manages everything related to the company's internal systems, including the management of the production system and attendance system.